CBA14: The 14th International Conference on Community-based Adaptation to Climate Change
The 14th International Conference on Community-based Adaptation to Climate Change
Guest Author: Peter T. Nguyen, PhD Candidate
In a very strange and challenging year, the Covid-19 pandemic completely changed our way of life across the globe. Amidst all the obstacles of being able to meet and connect in-person, the 14th International Conference on Community-based Adaptation to Climate Change (CBA14) adapted by going entirely virtual. CBA14 was held over 5 days from September 21-25, 2020. The main hosts for this conference were the Royal Government of Bhutan, the Climate Justice Resilience Fund, Irish Aid, the Global Resilience Partnership, the Global Commission on Adaptation, IIED, CARE, Practical Action, and many other collaborating partners.
Community-based Adaptation (CBA)
Community-based adaptation (CBA) is a form of adaptation that aims to reduce the risks of climate change to the world's poorest people by involving them in the practices and planning of adaptation. It adds to current approaches to adaptation by emphasizing the social, political, and economic drivers of vulnerability, and by highlighting the needs of vulnerable people. (Ref.)
CBA14 took on an innovative approach that centers local voices through community-based adaptation (CBA) while fostering networking between practitioners, community leaders, government officials, NGO and non-profit organizers, researchers, policymakers, donors, and environmental and climate justice advocates. The goals of the conference were to share and highlight local perspectives in addressing climate adaptation and resilience as well as provide a space to network with leaders and communities of practice together to work towards effective solutions.
CBA14 Themes
In addressing adaptation and resilience at the local community level, the CBA14 Conference centered around five themes: (1) Nature-based Solutions, (2) Adaptation Technology, (3) Responsive Policy, (4) Climate Finance, and (5) Youth Inclusion.
Nature-based solutions focus on how to invest in social capital as well as elevate and link traditional knowledge, which has already been championing nature-based solutions, with science and policy. Adaptation technology looks at the need for governments to create enabling environments for the investment and uptake of adaptation technologies by communities, while engaging youth to be the knowledge brokers between the two scales. Responsive policy calls for a multi-dimensional aspect that builds trust with community members through increased opportunities to participate and demonstrate their knowledge of practice with governments, NGOs, and multilateral decision-makers. Climate finance tackles the need for donors and development organizations to commit to longer-term investments within communities that build upon local capacities and institutions while not leaving them behind. Lastly, youth inclusion calls for a more proactive and genuine commitment for youth to be included within all stages of policy development and to support them as leaders of tomorrow's generation, who will be bearing the brunt of future climate change impacts.
Throughout the opening plenary, workshops, panels, and closing plenary the main speakers who grounded CBA14's focus and key messages were Saleemul Huq, Sheela Patel, Rosemary Atieno, and Muhammad Musa. They raised important questions, for example, Patel asked, "how do we bridge together and have dialogues with people who are destroying our lands while creating large carbon footprints?" Patel further inquired, "how can we address the rural/urban divide with the ever increasing issue of climate migration and refugees?" Musa and Atieno emphasized listening to local communities by raising the question of "how do we make sure that communities are empowered partners rather than being beneficiaries?" Lastly, Huq asks, "how do we move forward with communities of practice in CBAs and how do we link the local with the more affluent communities?" Ultimately, these questions guide our approach to developing creative and concrete solutions, but will also build into the Global Climate Adaptation Summit hosted by Bangladesh that will take place on January 25th, 2021.
Grassroots & Local Empowerment
Central to CBAs is locally led action that emphasizes grassroots and local empowerment. Local and Indigenous communities have a wealth of knowledge around living sustainably with the land for many decades and centuries. However, the impacts from climate change hit these marginalized communities the hardest yet they can often be neglected from climate adaptation or mitigation efforts, thus leaving them in more vulnerable conditions. Moreover, there is an incredible diversity of local community contexts and impacts. CBAs are very specific to each community, as each community has their own risks, vulnerabilities, and capacities. Thus, it is critical to foster and support local community empowerment to not only bridge the connection across scales between all local and regional actors, but to also better integrate local knowledge with climate science and policy to bring forth effective localized and comprehensive solutions.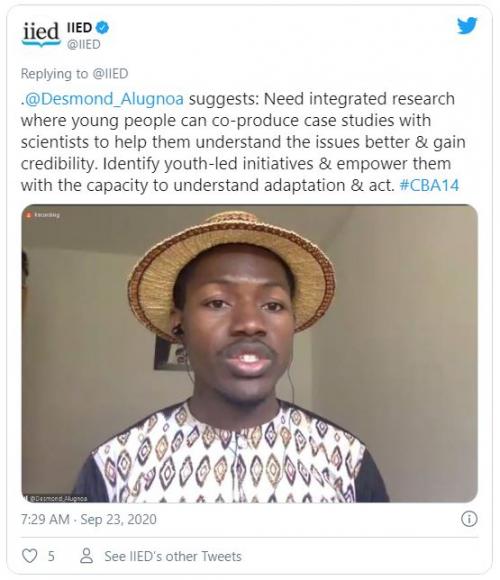 Intergenerational Co-creation & Youth Inclusion
In bridging across scales, the dialogues around the intergenerational gap and inclusion of youth within larger climate discussions are significant issues to address in moving forward with locally led climate action. The engagement of youth throughout the conference was amazing, but it also shed light on a huge issue that youth are largely excluded or tokenized throughout policy development stages. Youth from the sessions voiced that there needs to be genuine inclusion of youth not only from beginning to end, but also from the local to the global scale. In addition to calling for more effective horizontal and vertical integration, they further advocated for a common goal and that is to create a sustainable environment for the next generation. Thus, there needs to be more intergenerational dialogue and co-creation where the youth and professional/elder groups are equally sitting at the table and collaborating on innovative ways to address climate change's challenges.
Covid-19 Impacts & Responses
CBA14's platform is important in elevating the conversations around how this current Covid-19 pandemic has exacerbated and magnified the impacts that the most vulnerable and poor communities have been facing with climate change. Both these challenges are not disconnected from each other and as Muhammad Musa (an Opening Plenary speaker) says, it is critical to "bring communities into leadership roles and bring climate change back into the conversation" during this pandemic. We need to look deeper into the grassroots impacts and find ways of supporting how local communities can adapt in rebuilding from the pandemic. Knowledge and power lies within local communities, and there needs to be collective action to uplift them.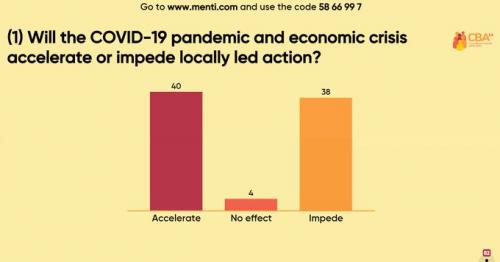 Amidst the difficult challenges presented to us this year, this pandemic has also presented opportunities to look at grassroots impacts as well as the creative and innovative ways that local communities are developing in response to economic and climatic crises. The resiliency and ability to adapt unites local communities.
Similarly, we see this with the CBA14 conference whereby moving this event virtually did not become as big of a barrier to having a robust dialogue on climate change. The online setting actually allowed for a greater participation and collaboration internationally. IIED notes that over 500 participants in over 70 countries were present. I was amazed by the diversity of participants as well as the ability to easily network with other participants through the Whova app. Although technology is still a barrier for many local communities, the online platform did provide an easier way for community members to connect and share their experiences with global leaders.
Looking Ahead
Attending this conference was very grounding and it motivated me to see how engaged everyone was around CBAs. It was very inspiring to see the multitude of youth who are tremendously hard-working and dedicated to raising awareness while supporting their own communities and bringing forth effective climate action. Although this current pandemic has created many obstacles, a positive note to take away is the resiliency and innovation that local communities are navigating through. In moving forward with CBAs and the larger climate adaptation dialogue, how can we better support these local communities and grassroots initiatives? We need longer-term commitment from donors and development partners as well as a greater degree of inclusion of marginalized groups (particularly youth, women, and Indigenous communities) into higher decision-making processes.
Saleemul Huq presents several key questions as we look towards continuing these conversations at the Global Climate Adaptation Summit on January 25th, 2021.
As outsiders, what role can we play to assist local communities in the larger context of climate change adaptation?

How do we empower people and local communities?

How do we raise what is going on at the grassroots level to the global network that brings forth effective change?
For more CBA14 information:
Primary Category
Tags