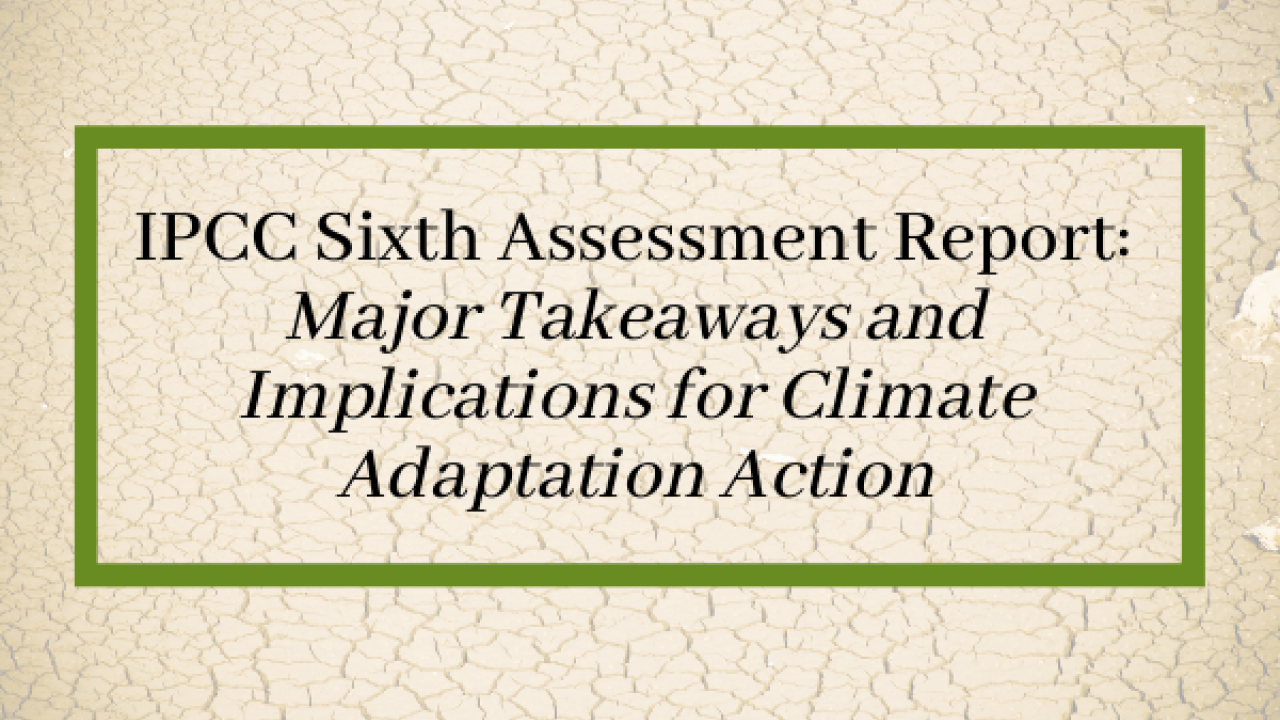 Location
Virtually through Zoom
IPCC Sixth Assessment Report: Major Takeaways and Implications for Climate Adaptation Action
The need for adaptation in addition to mitigation within our communities, both large and small, is wildly apparent as shown recently in the IPCC's 6th Assessment Report from Working Group 1. Join the UC Davis Climate Adaptation Research Center for an illustrative panel on the major takeaways of the report and hear how the Center is providing core expertise for adaptation research and education throughout the world. 
You can read the IPCC's summary and full report here.
Dr. Conlon
Climate Adaptation Research Center Co-Director
Dr. Kathryn Conlon is an assistant professor, jointly appointed in the School of Medicine Department of Public Health Sciences and School of Veterinary Medicine Department of Medicine and Epidemiology. Her research focuses on characterizing how climate change influences human, animal, and environmental health. She employs environmental epidemiological study designs, utilizing spatio-temporal exposure assessments, and weather, climate, and land-use model outputs. She also uses mixed-methods for social and behavioral epidemiology. She works with state and local health practitioners to systematically characterize and implement climate change and public health actions in support of building an evidence base for climate change and health interventions.
---
Dr. Largier
Professor, Environmental Science & Policy
John Largier addresses how moving water connects ecosystems and people in the coastal ocean.  His focus is on west-coast bays, estuaries and coastal waters, comparing California with other places characterized by coastal upwelling and seasonal rainfall (e.g., Chile, Spain, Portugal, Mexico, South Africa).  He is an environmental oceanographer who writes/teaches/advises on issues that include water quality, ecology, climate change, and water management – with an emphasis on an integrated understanding of the environmental system.  After graduate studies in Cape Town (South Africa), he joined Scripps Institution of Oceanography (UC San Diego) and later returned to the University of Cape Town.  He joined UC Davis in 2004 as Professor of Oceanography in the Department of Environmental Science and Policy.  He is based at Bodega Marine Laboratory and Associate Director of the Coastal and Marine Sciences Institute at UC Davis.
---
Dr. Lubell
Director, Center for Environmental Policy & Behavior

My research focuses on human behavior and the role of governance institutions in solving collective action problems and facilitating cooperation. The collective action problems associated with environmental policy provide a laboratory for my research. My current projects include watershed management, environmental activism, agricultural best management practices, and institutional change in local governments. I also dabble in experimental economics and simulation techniques to further explore collective action theory.
I study collective-action problems in theory, lab, and field settings using quantitative and qualitative empirical methods. Collective-action problems occur when individuals make self-interested decisions that produce socially undesirable outcomes. People encounter collective-action problems on a daily basis. For example, many people are familiar with the difficulties of encouraging people to cooperate to clean a house or apartment. Or maybe you have tried to organize a sports team or other group activity, and discovered that some people will enjoy the benefits of the group without contributing any time or effort. Collective-action problems occur when everyone is willing to free ride, and therefore nothing is accomplished. In environmental studies, perhaps the most famous collective-action problem is the Tragedy of the Commons as described by Garrett Hardin in 1968. Hardin describes how collective action problems are involved with environmental issues like overpopulation, destruction of rangeland, and water pollution. I view collective-action problems as the cause of many environmental conflicts, and therefore environmental policy is an excellent research setting to study central theoretical issues. My research topics to date include watershed management, environmental activism, and agricultural best management practices. Each of these situations represents a different type of collective action problem. These situations also feature many phenomena of central interest to political science, such as the role of institutions, political behavior, and policy implementation. I have also studied collective action using simulations and social dilemma and cultural evolution experiments. My simulations (not yet published) examine the coevolution of collective-action strategies and institutions. The experiments (in conjunction with Peter Richerson and Richard McElreath) examine how human subjects behave in a variety of collective-action and other social settings, in particular how different types of formal and informal institutions evolve over time to influence levels of cooperation. Following a natural science model of scientific inquiry, my long-term research agenda is to discover common principles of collective action that can be observed and tested in all three modes of research: theory, experiment, and field.
---
Dr. Margolis
Associate Adjunct Professor, Environmental Health Internal Medicine

Dr. Margolis has extensive research and public policy experience and expertise related to the health impacts of climate change and environmental factors, most notably heat and air pollution, on vulnerable populations, especially children and older adults. Her 20 years experience as a California state scientist and program lead, and academic training in epidemiology (PhD), immunology (MA), and marine sciences (oceanography)/biology (B.A.) gives her a unique knowledge-base and perspective on issues related to climate change. Her ARRA Challenge Grant ('Projected Heat Wave Magnitudes and Public Health Impacts'; NIEHS) is advancing understanding of heat-related illness and morbidity that occurs even under relatively mild conditions across California. Dr. Margolis' research interests include: Public health impacts of climate change and variability, including clinical ramifications and interventions to reduce vulnerability; pathophysiology/mechanisms and influence of environmental factors on natural history of chronic diseases (respiratory, cardiovascular, metabolic, immunologic); pediatric asthma and lung function growth; gene-environment interactions; exposure assessment; and translation of research findings into integrated public health and environmental policies. A particular interest is development of multiple-determinant models of chronic disease and related health outcomes that incorporate individual- and community-level factors and assess vulnerability across the life-span. She is committed to addressing issues of ethics in environmental health research, social inequities in health and environmental policy and access to healthcare.
---
Dr. Monier
Climate Adaptation Research Center Co-Director

Dr. Monier's research explores the climate change and extreme weather impacts and risks to various sectors of the economy and ecosystem services, including agriculture, forestry and wildfires, water resources, and air quality and health. His Global Environmental Change research group uses interdisciplinary approaches to examine the co-evolution of human and natural systems in the face of socio-economic and environmental stressors and to build the next generation of tools to explore the dynamics of the energy-water-land system and the interactions between climate change, air quality and health.
---
Dr. Shilling
Director, Road Ecology Center

Dr. Shilling will be discussing Chapter 9: Ocean, cryosphere, and sea level change.
Dr. Shilling has 3 areas of research: 1) interactions between equity and water quality policy & decision-making; 2) sustainability indicator systems; and 3) transportation ecology. His project areas include: developing new methods for measuring sea level rise and its impacts in real-time, finding out how environmental disruptions (e.g., climate change, pandemics) disrupt transportation and other systems, facilitating the sharing and understanding of water data through indicators related to social goals, studying how traffic noise and light impacts wildlife use of habitat and wildlife crossing structures, and calculating the impact of roads and highways on wildlife movement and survival.  If Fraser had one super power, his would be infecting people with empathy for nature and other people. 
---
Moderated By: Dr. Eric Chu

Dr. Chu studies how local governments and communities plan for and adapt to the impacts of global environmental change. His research is globally comparative and draws on qualitative and participatory methodologies. Dr. Chu's recent research projects have looked into how emerging climate change adaptation priorities are being institutionalized into local decision-making; how climate adaptation intersects with economic development, human health, environmental sustainability, and infrastructure planning priorities; as well as how communities mobilize for more equitable climate adaptation and resilience solutions. He currently serves as Lead Author in Working Group 2 of the Sixth Assessment Report to the Intergovernmental Panel on Climate Change (IPCC). 
---
Organized & Facilitated By: Dr. Michele Barbato

Dr. Michele Barbato is a Professor in the Department of Civil & Environmental Engineering at the University of California, Davis (UCD), and co-director and co-founder of the UCD Climate Adaptation Research Center. He received his Summa Cum Laude "Laurea" degree in Civil Engineering from the Sapienza University of Rome (Rome, Italy) in 2002, and his M.S. and Ph.D. in Structural Engineering in 2005 and 2007, respectively, at the University of California, San Diego. He is a licensed PE in Louisiana and in Italy.
He is an expert in both traditional and innovative construction methodologies and materials, with particular emphasis on new recycled and green materials. He is active in the development of performance-based methodologies in earthquake, wind, and hurricane engineering, as well as in multihazard applications. Dr. Barbato's research also embraces nonlinear finite element modeling and analysis of structural systems, random vibration theory, structural reliability analysis, multihazard assessment and mitigation under current and changing climate conditions, and life-cycle cost optimization of resilient/sustainable structures subject to multiple hazards.
He is the author of more than 200 technical publications. He received the 2007 ICASP10 Overseas Student Scholarship, the 2009 ASCE Moisseiff award, the 2011 European Association of Structural Dynamics Junior Research Prize, the ISSE-12 Best Paper Award for Young Experts, the 2020 ASCE Sacramento Section Fredrick Panhost Structural Engineer Award, the 2020 Walter L. Huber Civil Engineering Research Prize, and several teaching and service awards. He was elected SEI Fellow and EMI Fellow in 2019, and ASCE Fellow in 2021. Dr. Barbato has served as the Chair of the ASCE EMI Dynamics Committee in 2017-2020, and currently is the Chair of the ASCE SEI Multihazard Mitigation Committee, the vice-Chair of the ASCE SEI Performance Based Design of Structures Committee, an associate member of the ASCE 7-22 Wind Loads Subcommittee, and a member of the EMI Board of Governors.