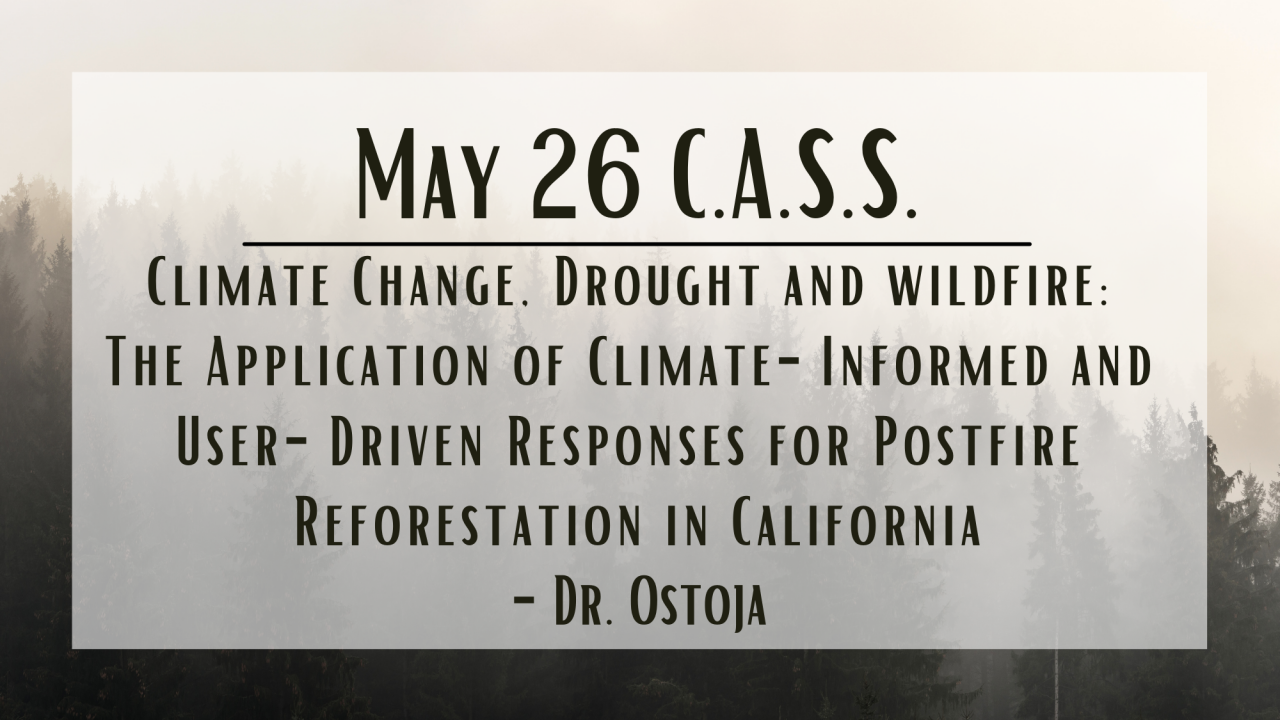 Location
Virtually through Zoom
The Climate Adaptation Research Seminar Series is a webinar series that will share the most current adaptation research from it's members on climate-related topics. The seminars will give participants a taste of the wide breadth of research conducted by research members on the UC Davis campus. 
May 26, 2021, 9:00 a.m. PT
Climate change, drought and wildfire: The application of climate-informed and user-driven responses for postfire reforestation in California
The effects of climate change are already apparent across many forested ecosystems in California. In some cases, these have been magnified by antecedent factors associated with land management decisions past such as fire elimination and more recent anthropogenic related dynamics such as population development. There has been a sharp increase in climate-linked stressors and disturbances in the last decade, replete with water stress, forest pest outbreaks and of course wildfire. A hallmark example of this was the tree mortality event coincident with the historic 2012-2016 California mega drought and bark beetle outbreak that killed ~130M trees across the state.  The epicenter of impact was in the Southern Sierra Nevada, chiefly the Sierra and Sequoia National Forests.  And perhaps not surprising to some, two of the largest fire incidents in 2020 occurred on those management units respectively.  The Creek fire burned nearly 380,000 ac. mostly on the SNF and the Sequoia complex fire (SQF) burned just over 174,000 ac primarily on the Sequoia National Forest and Monument.  The former fire was the largest single incident event in the history of California.  As part of this seminar I will summarize lessons learned in the four years since the last epic drought with special attention to forested ecosystems and the services they provide the states nearly 40 million residents.  Additionally, I will present various management resources and tools that have been developed to respond in a post disturbance events like large high severity wildfires.  Finally, I will present a conceptual framework outlining a comprehensive, all lands and climate-informed approach for revegetation and reforestation statewide.  Afterall, if climate change, including more intense and longer lasting droughts and associated disturbances like wildfire are expected to increase in frequency and scale in the years to come our preparedness and post disturbance response portfolio should be commensurate.  
About the Author

Steve is a native Californian from nearby Sacramento who earned his BS in ecology and MS in biological sciences from Cal Poly, San Luis Obispo. Steve went on to earn his PhD in ecology and conservation biology from Utah State University where his research focused on the effects of invasive species on wildlife communities and resource-consumer interactions in an applied rangeland restoration context. Before joining the Hub, Steve worked for the US Forest Service where he was head of the ecosystem management department on the Sierra National Forest. Prior to that, he worked as a supervisory ecologist for the US Geological Survey in the Yosemite office where he managed a research program that focused on invasive species management, restoration ecology, conservation biology and the effects of various stressors, including climate change, to plant and animal populations and communities. Steve joined the USDA California Climate Hub in September 2016.