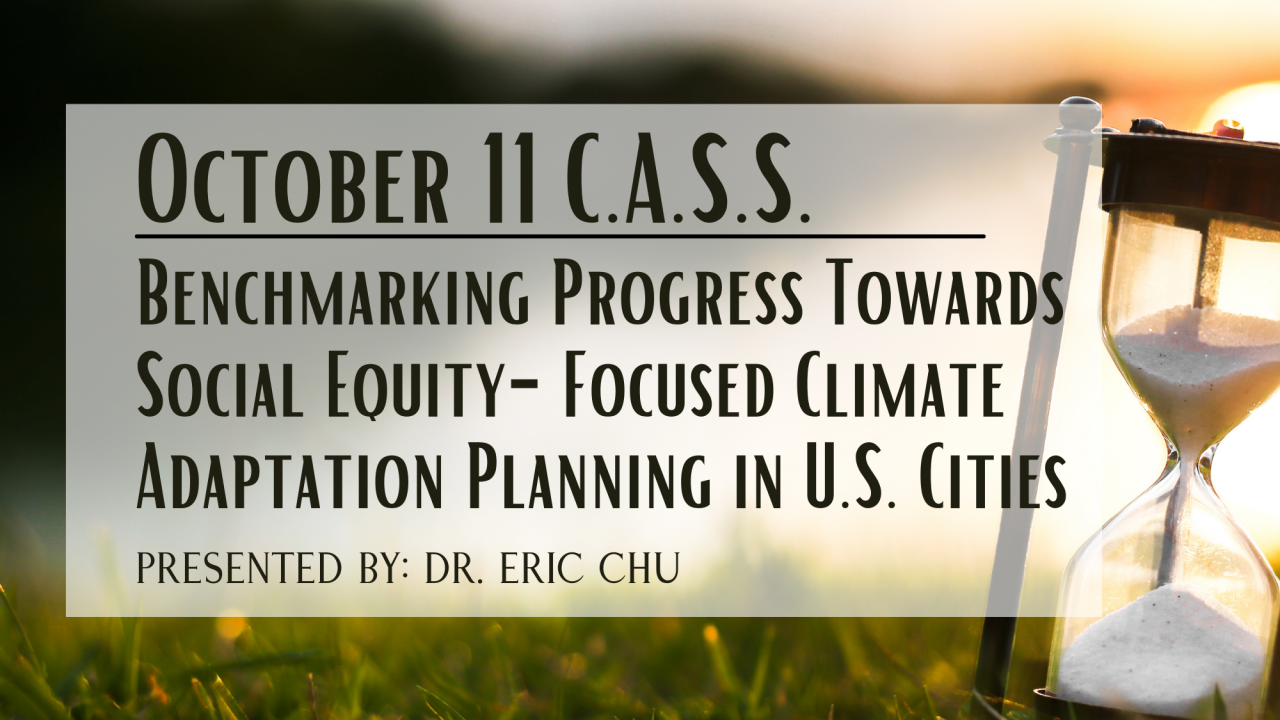 Location
Virtually through Zoom
The Climate Adaptation Research Seminar Series is a webinar series that will share the most current adaptation research from it's members on climate-related topics. The seminars will give participants a taste of the wide breadth of research conducted by research members on the UC Davis campus. 
Benchmarking Progress Towards Social Equity-Focused Climate Adaptation Planning in U.S. Cities
Cities across the US are planning for climate change impacts such as heat, drought, sea level rise, and other extreme hazards. Although researchers have long sought to understand the drivers of more aggressive local climate policymaking, we have yet to develop consistent and coherent indicators to assess adaptation action outcomes on the ground. We therefore have no way of assessing whether climate adaptation plans that are currently being designed or implemented actually lead to more sustainable, resilient, or socially just outcomes. This presentation draws on research addressing the need to benchmark climate adaptation progress through evaluating emerging strategies taken by larger cities across the U.S. to monitor and assess their own efforts in designing and implementing more equitable climate actions. Research shows there is a growing consensus on 'what counts?' as social equity-focused climate adaptation action in cities, with actions typically ranging from equitably managing heightened exposures to climate impacts to recognizing historic forms of exclusion in adaptation interventions. These insights help to make sense of ongoing equity-focused adaptation actions in U.S. cities and can inform the types and potential approaches to catalyze more equity-focused actions in other cities. Download the presentation as a PDF
About the Author

Dr. Chu studies how local governments and communities plan for and adapt to the impacts of global environmental change. His research is globally comparative and draws on qualitative and participatory methodologies. Dr. Chu's recent research projects have looked into how emerging climate change adaptation priorities are being institutionalized into local decision-making; how climate adaptation intersects with economic development, human health, environmental sustainability, and infrastructure planning priorities; as well as how communities mobilize for more equitable climate adaptation and resilience solutions. He currently serves as Lead Author in Working Group 2 of the Sixth Assessment Report to the Intergovernmental Panel on Climate Change (IPCC). 
Tags